Introducing The Bromance Book Club!
A couple of weeks ago I teased that I had some awesome news that I couldn't yet share. Well, now I can. I GOT A THREE-BOOK DEAL WITH BERKLEY!
As in, one of my dream publishers. As in, home to Jasmine Guillory, Helen Huoang, Kristan Higgins, and Jaci Burton! As in, ARE YOU KIDDING ME?!
It actually happened Aug. 30—almost six weeks ago. But things move slowly in the publishing world, so I couldn't actually announce it until now. And since I've actually been dreaming of and working toward this since, like, the age of five, I'm not going to mess around with any of that aw, shucks humble brag stuff. I'm going to shout it while doing cartwheels.
Here's the official announcement from Publisher's Marketplace:
So, anyway, I remember as a new writer how much I enjoyed hearing other writers' how-I-got-published stories. If you're not interested in mine, stop reading now. But if you want to hear how this all came about, I'm happy to share it! But I have to warn you. It's kind of a crazy story.
IT STARTED WITH A TWEET
Yeah. It's crazy and true. This all started with a tweet.
I woke up one day last April and saw that it was #CarinaPitch day on Twitter. It's the day when Carina Press (an imprint of Harlequin) allows writers to pitch their books to them on Twitter. If an editor likes your pitch, you get to send it to them and avoid the standard querying process.
This year, they opened it up to proposals. That meant you could pitch them an idea even if you haven't written the full book. So, I decided to throw up a pitch for an idea that I'd been messing around with for a couple of years. I originally imagined weaving it into an existing indie series I was working on, but a smart friend, Anna Bradley, convinced me it was worthy of its own series.
This was my pitch:
Two Carina editors requested it right away. I was thrilled. But things got even better a few days later when an agent named Tara Gelsomino of One Track Lit reached out to me to say that if I was not already represented by an agent, she would be interested in reading the proposal, as well.
I did not have an agent, so I looked into her and was impressed with her industry experience and her philosophies. So, I said I'd be happy to send it to her… after I had something to send.
I quickly threw myself into pulling together all the disjointed notes and scenes that I'd cobbled together over the years into 10,000 words and a synopsis.
I sent it to her on a Friday, figuring it would be at least a couple of weeks before I heard anything.
Except, it didn't take a couple of weeks. On Monday, she emailed me and offered representation.
(It's OK to hate me here. It's not supposed to normally work this way.)
Anyway, after a phone call, I knew she was the right agent for me. So, on Tuesday, I signed with her. BEST DECISION EVER.
THE PROPOSAL
Tara said she wanted to pitch it wide to multiple houses as a proposal for a three-book series. I figured that was a pipe dream. An unknown author pitching a proposal for a series? That's nuts! But I trusted Tara, so I figured, why not? What did I have to lose?
She sent out her pitch, and I settled in for a long wait, because publishing is all about waiting.
But, once again, I didn't have to wait long. Within hours of sending out our pitch, she had requests from two publishing houses for the full manuscript when it was done. Other requests followed within a week. Three weeks later, another house asked for a longer partial as soon as possible.
(It's OK to hate me here, too.)
Anyway, I didn't want to get my hopes up. I've been in this game long enough to know that just getting requests for a full doesn't really mean much. ESPECIALLY SINCE I HADN'T WRITTEN THE ENTIRE BOOK YET. I told Tara I'd let her get her hopes up; I was going to just focus on writing.
It was a good strategy. Because as the weeks dragged on (most of the romance publishing world essentially shuts down during July and August for the national RWA conference and vacations), I just doing my thing.
So, it felt completely out of the blue when Tara called on Aug. 27. She said an editor from Berkley named Kristine Swartz was very interested in the book and wanted to talk to me on the phone the next day, if possible. Did I have time for that? (Oh, gee. Let me check my schedule.)
Tara said she figured that Kristine would ask for an R&R—a revise and resubmit—because Kristine indicated that she had a couple of suggested changes to run by me. I was cool with that. I figured nothing would happen until she had a full book anyway.
So, we get on the phone the next morning, and I immediately clicked with Kristine. She was so excited about my Bromance Book Club, and I loved her ideas for making the book even better. We talked about titles, trade vs. mass market paperback, marketing potential, and possible characters for the next two books in the series, as well as some suggested changes. We did NOT talk about a R&R.
When the call ended, I asked Tara if I should be optimistic. She said, "I think you should be dancing in your chair."
That was a Tuesday.
THE OFFER
On Wednesday, I had a hella stressful day that began with dog puke and ended with my cranky daughter at the dentist. By 4:30 p.m., I decided I'd earned five minutes of lying flat on my back on my bed and staring at the ceiling fan before starting dinner.
Then the phone rang. It was Tara.
"Are you sitting down?" she asked.
My heart thundered. "Oh my God, why?"
"Berkley has made an offer for three books."
I made a noise like a pika—one of those little squeaky rodents that live in the Canadian Rockies. Then I told my family and bought myself a mini cake to celebrate.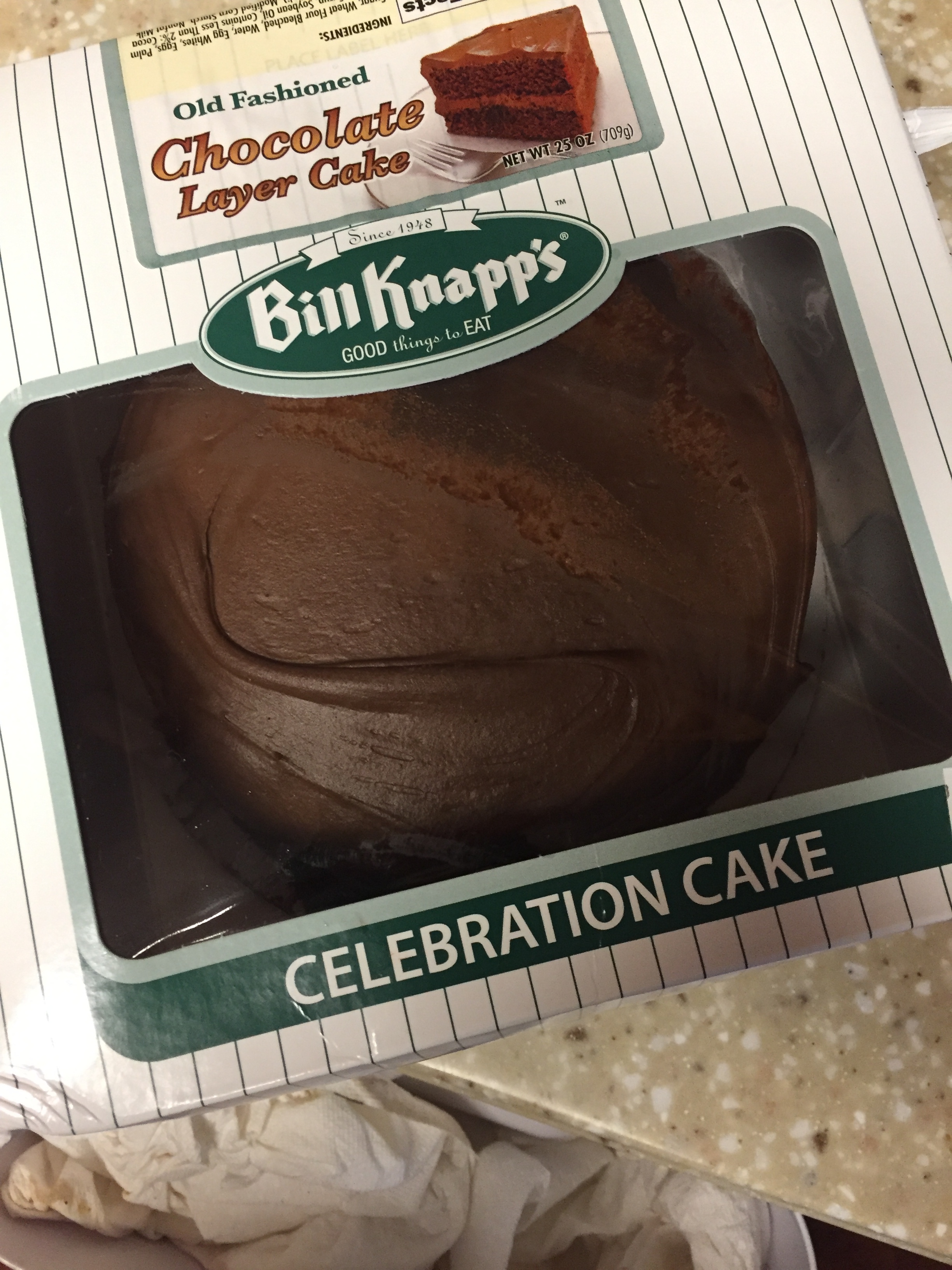 I wanted to eat the whole thing.
Anyway, Tara told Kristine that since other publishing houses had requested the full manuscript, she had to inform them out of professional courtesy that there was an offer on the table. I figured nothing would happen with that; that they'd just say congrats and move along.
But the next morning, I was at a local coffee shop with a writing friend trying to get some work done and failing because it was starting to really hit me that HOLY CRAP I GOT AN OFFER FROM BERKLEY… and the phone starts ringing again.
The other publishing houses were all interested. As in, I was looking at potentially multiple offers from multiple major publishers. As in… a possible bidding war. While I hyperventilated and gave up all pretense of actually writing, Tara kept me updated and reminded me to breathe and stay calm, which was sort of a joke because I was basically mainlining coffee at that point.
Just before noon, Tara called one more time.
"I hope you're really sitting down this time," she said.
I took her advice. "OK, tell me."
"Berkley has come back with a pre-empt."
As in, a pre-emptive offer—an offer big enough to convince us to pull the book from consideration by other houses.
As in, the kind of fairy tale situation every writer dreams of for their first book deal.
As in, ARE YOU FREAKING KIDDING ME?

Honestly, I still can't really believe it. But I am so beyond thankful to Tara and Kristine for believing in The Bromance Book Club and in me. I am so excited to bring these stories to readers.
And now I have sooo much writing to do, so send coffee, chocolate, and pictures of pikas.